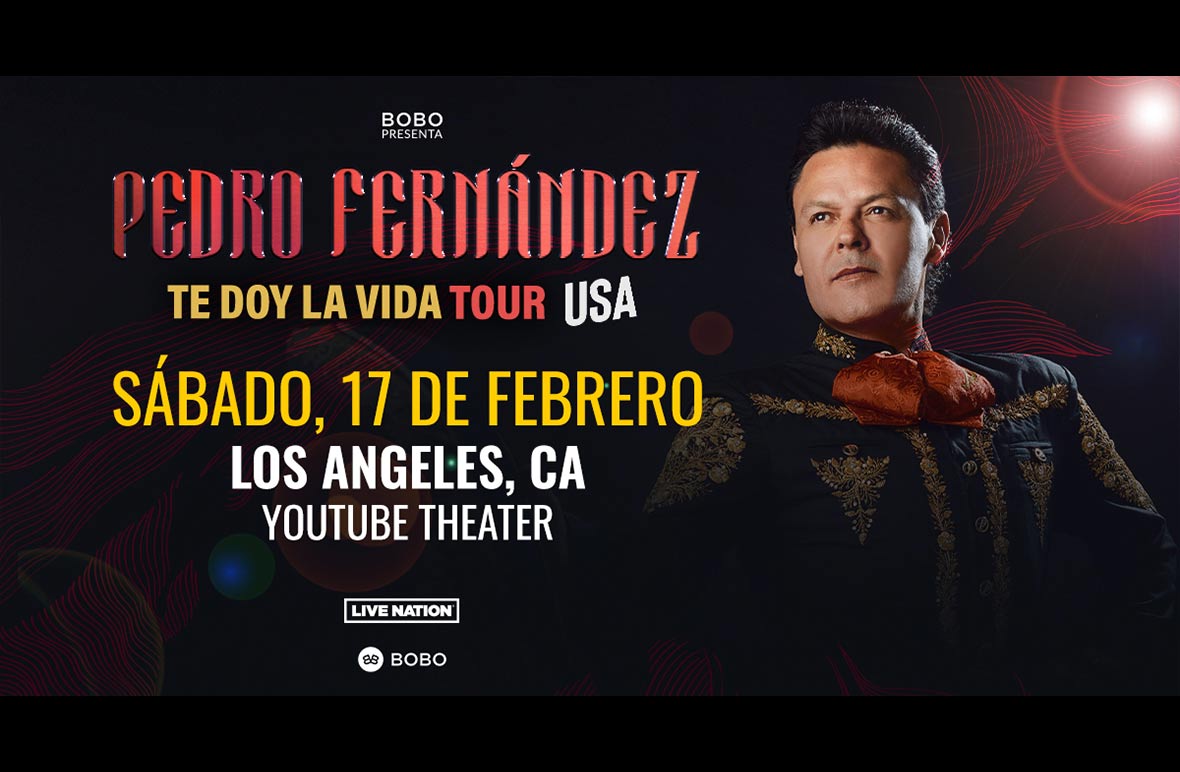 Pedro Fernández Announces "Te Doy La Vida Tour" with Stop at YouTube Theater on Saturday, February 17th
Tickets on Sale Friday, November 3rd at 10AM via Ticketmaster.com
INGLEWOOD, CA (November 1, 2023) - With more than 25 million records sold and 45 years of an impeccable trajectory, Pedro Fernández's successful career as an actor, director, composer and performer has captivated the audience of different generations. He is considered one of the greats of Mexican regional music in Latin America and the United States, also known as "The Adventurer of America."
Now, he is back to premiere his new tour "Te Doy La Vida Tour", which will make a stop at YouTube Theater at Hollywood Park on Saturday, February 17. Tickets on sale Friday, November 3rd at 10AM via Ticketmaster.com. "Te Doy La Vida Tour" will include his greatest hits, as well as unreleased songs that will be part of his new album production.
With a successful discography with a total of 39 recorded albums, Pedro Fernández's distinctive voice and musical prowess has led him to gain international recognition.
---
INGLEWOOD, CA (1 de noviembre de 2023) - Con más de 25 millones de discos vendidos y 45 años de impecable trayectoria, la exitosa carrera de Pedro Fernández como actor, director, compositor e intérprete ha cautivado al público de diferentes generaciones. Es considerado como uno de los grandes de la música regional mexicana en Latinoamérica y Estados Unidos, también conocido como "El Aventurero de América".
Ahora está de regreso para estrenar su nueva gira "Te Doy La Vida Tour", que hará parada en el YouTube Theater en Hollywood Park el sábado 17 de febrero. Entradas a la venta el viernes 3 de noviembre a las 10AM a través de Ticketmaster.com.
En "Te Doy La Vida Tour" estarán incluidos sus más grandes éxitos, así como temas inéditos que formarán parte de su nueva producción discográfica.
Con una exitosa discografía que suma 39 álbumes grabados, la voz distintiva y la destreza musical de Pedro Fernández lo ha llevado a obtener el reconocimiento a nivel internacional.