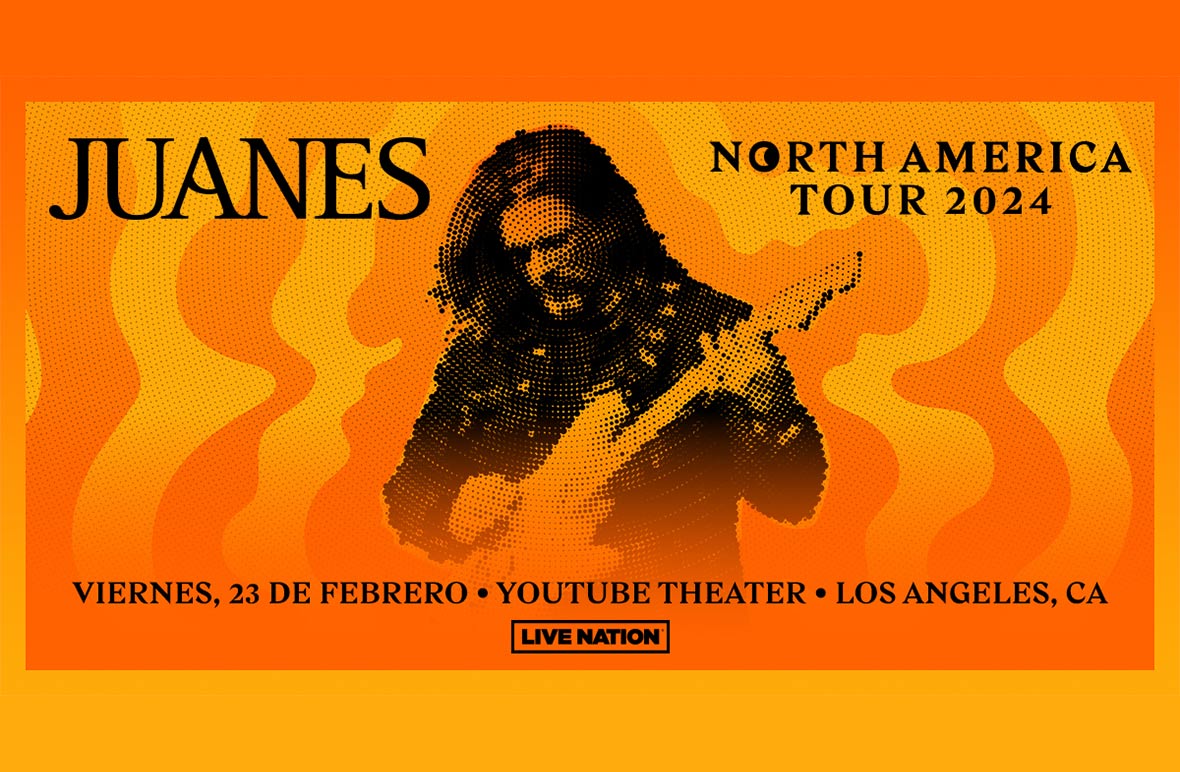 Juanes Announces North American Dates For His "Vida Cotidiana World Tour"
Presale Tickets Available Starting Nov. 7 at 10AM Local Time; General Onsale Begins Nov. 9 at 10am Local Time on Ticketmaster.com
INGLEWOOD, CA (November 6, 2023) - Today, Latin rock icon and Twenty-Seven-time GRAMMY & LATIN GRAMMY award-winning artist Juanes announced the eagerly awaited February & March 2024 North American dates of his widely praised Vida Cotidiana World Tour. The powerful rock guitar-driven tour will be both an immersive journey through the career greatest hits of the Colombian superstar, combined with show-stopping live renditions from the artist's landmark 11th studio album- just re-released in a new extended/deluxe edition.
Produced by Live Nation, the 27-date North American tour run will kick off February 13th in Portland, OR, and travel across the continent to a March 30th finale in Hollywood, FL. Along the way, the tour will reconnect Juanes with his passionate fans in cities such as Los Angeles, where he will return to play YouTube Theater at Hollywood Park on Friday, February 23rd.
"I feel this has already become my artistically strongest and most enjoyable tour. Having begun this creative cycle with all my core band members taking part in the recording process has brought extra levels of musical cohesion and sheer joy of playing to the stage, and the audiences have sensed this and joined us in the celebrations. We are genuinely looking forward to kicking some ass across North American stages early next year.. and we know how!", explains a smiling Juanes.
Vida Cotidiana is built upon a fusion of Juanes early rock and folkloric influences, with the introspective examination of a matured, master songwriter delving deep into a thoughtful adult's 'Day to Day Life' concerns - ranging from through evolving perspectives on love, marriage & family, to his country & community. This also marked the first-time members of Juanes' long-time touring band were totally immersed in the album recording, which now brings even an additional level of musical solidarity to the live presentation. The resulting collaborative work unquestionably delivered a new creative pinnacle in Juanes' distinguished career and has found NPR, Billboard and Rolling Stone declaring that "VIDA COTIDIANA" is his 'Best, Most Soulful & Personal Album Yet' and among 'The Best Latin Music of 2023'. The album's recent recognition by members of the Latin Recording Academy has also led to multiple nominations– including ALBUM OF THE YEAR, BEST POP/ROCK ALBUM & BEST ROCK SONG, and another performance invitation for the November 16th global broadcast of The Latin Grammy Awards.
TICKETS: Tickets will be available starting with a Citi presale (details below) beginning on Tuesday, November 7. General onsale begins Thursday, November 9 at 10am local time on Ticketmaster.com.
PRESALE: Citi is the official card of the "Vida Cotidiana Tour. Citi cardmembers will have access to presale tickets beginning Tuesday, November 7 at 10am local time until Wednesday, November 8 at 11:59 pm local time through the Citi Entertainment program. For complete presale details visit www.citientertainment.com.
- - - - - - - - -
"Juanes' live show is… a daring rock production… and a 'don't miss' event,
His concerts confirm Juanes as the rare artist — in company with the likes of U2, and Bruce Springsteen — with the power to inspire beyond the [venue] walls." – Los Angeles Times
"Whatever you do, don't miss the chance to check Juanes out when he comes your way" - ABC News
"Vida Cotidiana' Is [Juanes'] Best, Most Soulful Album Yet… Juanes is making music exactly how he wants to, as he taps into his expert musical reflexes and chronicles the personal and social issues that permeate daily life… made up of original songs charged with new energy and some of Juanes' best writing with the live-in-the-studio gravitas of a studious guitar player… Vida Cotidiana stands as Juanes' most sincere effort to date… and SHOULD WIN The Latin Rock or Alternative Grammy - Rolling Stone
"For the Colombian rocker known for his deep and honest lyrics about love and social commitment… his introspective journey on 'VIDA COTIDIANA' is [even] more mature and fascinating." – Billboard
"A Deeply Personal Record… an element of catharsis is woven into the songs and stories that make up 'Vida Cotidiana' ('Everyday Life')… Juanes returns to his roots [as] immersive electric guitars cascade into swooning chorus lines about his personal struggles in marriage, while other tracks exercise man-against-the-world frustrations." – Variety
"The Colombian icon is slinging his guitar like his early days… With the most raw and raucous music of his career, he is hitting his stride as one of Latin America's most enduring and influential rockers"- Remezcla
For More Information on Juanes Please Visit:
www.juanes.net - https://twitter.com/juanes - www.facebook.com/juanes
http://instagram/juanes - www.fundacionmisangre.org/en
---
INGLEWOOD, CA (6 de noviembre de 2023) - Hoy, Juanes, el ícono del rock latino y artista ganador de 27 premios GRAMMY y LATIN GRAMMY, anunció que su ampliamente elogiada Vida Cotidiana World Tour llegará a Norteamérica en febrero y marzo de 2024. La potente gira impulsada por su guitarra rockera será un viaje envolvente a través de los mayores éxitos de la superestrella colombiana, y contará con impactantes interpretaciones en vivo de temas de su undécimo y emblemático disco, que acaba de ser relanzado en una nueva edición de lujo.
Producida por Live Nation, la gira norteamericana tendrá 27 fechas y comenzará el 13 de febrero en Portland, Oregón, para luego recorrer el continente hasta su fin el 30 de marzo en Miami, Florida. A lo largo del camino, la gira reunirá a Juanes con sus apasionados fanáticos en ciudades como Los Ángeles, donde volverá para tocar en el YouTube Theater at Hollywood Park el viernes 23 de febrero.
"Siento que Vida Cotidiana se ha convertido en mi gira más fuerte y placentera en términos artísticos. Haber comenzado este ciclo creativo con todos los miembros principales de mi banda siendo parte del proceso de grabación ha aportado niveles adicionales de cohesión musical y puro entusiasmo por tocar en vivo, y el público lo ha sentido así y ha sido parte de las celebraciones. Estamos ansiosos por arrasar en los escenarios de Norteamérica a principios del próximo año... ¡y sabemos cómo hacerlo!", explica sonriente Juanes.
Vida Cotidiana se remonta a las influencias rockeras y folklóricas que el artista exploró a inicios de su carrera, y realiza un examen introspectivo de un compositor maduro y experto que abarca las preocupaciones y reflexiones de su 'Vida Cotidiana', desde sus perspectivas en evolución sobre el amor, el matrimonio y la familia, hasta su país y su comunidad. Esta es la primera vez que la banda en vivo de Juanes estuvo totalmente inmersa en la grabación del álbum, lo que aporta un nivel adicional de solidaridad musical a la presentación en vivo. Sin dudas, el resultado de este trabajo colaborativo constituye un nuevo pináculo creativo en la distinguida carrera de Juanes. NPR, Billboard y Rolling Stone han declarado que Vida Cotidiana es su "Mejor disco hasta ahora, el más profundo y personal " y uno de 'Los Mejores Álbumes de Música Latina de 2023". El reconocimiento reciente del álbum por parte de la Academia Latina de la Grabación ha resultado en múltiples nominaciones, incluidos ÁLBUM DEL AÑO, MEJOR ÁLBUM DE POP/ROCK y MEJOR CANCIÓN DE ROCK, así como en otra invitación a presentarse en la transmisión mundial de los Latin Grammy Awards el 16 de noviembre.
ENTRADAS: Las entradas estarán en preventa a partir del martes 7 de noviembre a través de Citi (detalles a continuación). La venta general comenzará el jueves 9 de noviembre a las 10 am, hora local, en Ticketmaster.com.
PREVENTA: Citi es la tarjeta oficial de la gira "Vida Cotidiana". Los titulares de tarjetas Citi tendrán acceso a las entradas en preventa a partir del martes 7 de noviembre a las 10 am, hora local, hasta el miércoles 8 de noviembre a las 11:59 pm, hora local, a través del programa Citi Entertainment. Para detalles completos de la preventa, visite www.citientertainment.com.
- - - - - - - - - -
"El espectáculo en vivo de Juanes es... una atrevida producción de rock... y un evento que no te puedes perder. Sus conciertos confirman a Juanes como un artista como pocos, en la talla de U2 y Bruce Springsteen, con el poder de inspirar más allá de las paredes del recinto."
– Los Angeles Times
"Lo que sea que hagas, no te pierdas la oportunidad de ver a Juanes cuando pase por tu ciudad" – ABC News
"'Vida Cotidiana' es el mejor álbum de Juanes y el que más alma tiene... Juanes está haciendo música exactamente como quiere... al aprovechar sus reflejos musicales y relatar los problemas personales y sociales que impregnan la vida diaria… compuesto por canciones originales cargadas de nueva energía, algunas de las mejores composiciones de Juanes y la compostura de un estudioso de la guitarra que toca en vivo en el estudio… Vida Cotidiana es el proyecto más sincero de Juanes a la fecha... y DEBERÍA GANAR el Mejor Álbum de Rock o Álbum Alternativo en los Latin Grammy – Rolling Stone
"Para el roquero colombiano conocido por sus letras profundas y honestas sobre el amor y el compromiso social... su viaje introspectivo en 'VIDA COTIDIANA' es más maduro y fascinante" – Billboard
"Un disco profundamente personal... Un elemento de catarsis se teje en las canciones e historias que componen 'Vida Cotidiana'. Juanes regresa a sus raíces mientras las guitarras eléctricas envuelven al oyente y se deslizan hacia estribillos melódicos que abarcan sus luchas en el matrimonio. Por otro lado, sus otras pistas exorcizan las frustraciones del hombre contra el mundo".
– Variety
"El ícono colombiano está tocando su guitarra como en sus primeros días... Con la música más cruda y estruendosa de su carrera, está alcanzando su punto como uno de los roqueros más duraderos e influyentes de América Latina"- Remezcla
Para más información sobre Juanes, visite:
www.juanes.net - https://twitter.com/juanes - www.facebook.com/juanes