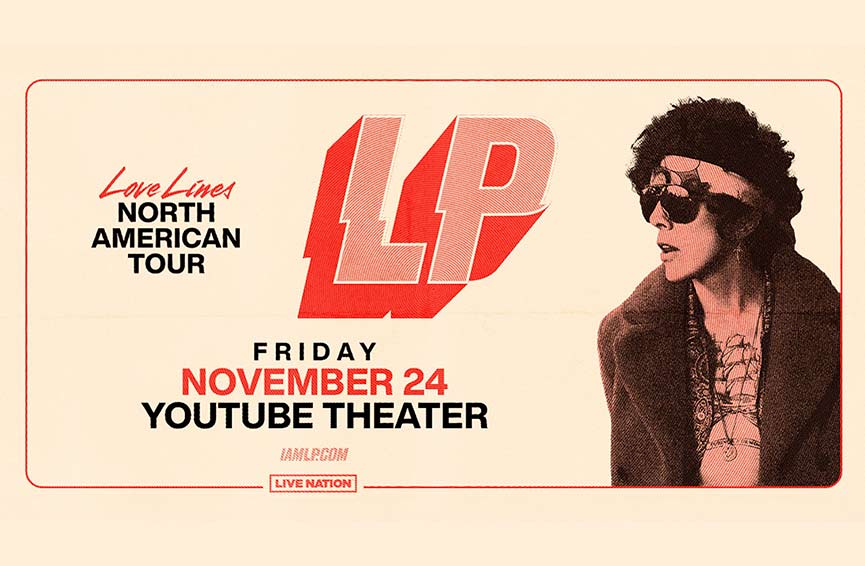 Love Lines Tour
LP
with Vérité
Date

Nov.

24

, 2023

Event Starts

8:00 PM

Doors Open

7:00 PM

Availability

On Sale Now

Parking

Parking
Event Details
Friday, November 24, 2023
Parking Gates Open: 5:00 PM
Food Trucks & Bars in American Airlines Plaza Open: 7:00 PM
Doors Open: 7:00 PM
Show Starts: 8:00 PM
About LP
With powerhouse vocals, genre-bucking attitude, and a sharp pen that distills potent feelings into soaring pop hooks, LP has become one of the most internationally beloved singer-songwriters of their generation. Skyrocketing to fame with 2017's "Lost On You," a heart-penetrating folk ballad that hit No. 1 in 18 countries, the Los Angeles-based artist has captivated an audience of over 25.7 million monthly listeners/viewers who pack their transcendent, sold-out shows around the world in more than 150 cities from 3,000 to 20,000 tickets. LP's unparalleled catalog has amassed over 3B streams globally, filled with universal anthems of transformative love and self-discovery, capturing the complexity of the human experience through their eyes. "Songwriting is a way for me to go to the center of my own world," LP explains, "and find the originality I needed to get for myself."

LP honed in on their own style through studying the greats—from Freddie Mercury and Jeff Buckley, to Aretha Franklin, Joni Mitchell, and Roy Orbison. They emerged in the early 2000s with their daring blues rock-inflected debut Heart-Shaped Scar and 2004's Suburban Sprawl & Alcohol, which brought two major label deals that yielded no records. Yet, on the power of their performance skills alone, LP soon landed a publishing deal where they got to learn to write songs alongside legends who had already scored hits that "made them like 50 million dollars, fer sure," LP jokes. "I was sitting at the feet of these giants." Seeing their songwriting breakthrough with Rihanna's 2011 hit "Cheers (Drink to That)," they have also penned hits for Cher, the Backstreet Boys, Céline Dion, and Christina Aguilera.
In 2014, LP issued their Warner Brothers Records release, Forever for Now, whose breakout track "Into the Wild" sparked a frenzy of new listeners who first heard it in a Citibank television commercial and started searching the internet to find out who this talented singer was. International attention came with her next record, 2016's Lost on You, which birthed the now-iconic title track, as well as "Muddy Waters," which landed a prominent placement in the season four finale of Netflix's Orange Is the New Black. LP kept up the momentum with 2018's Heart to Mouth, which birthed more global hit singles like "Recovery" and "Girls Go Wild," which was Italy's most played radio hit of 2019, and again made waves in spring 2020 due to a remake featuring Mexican singer Ximena Sariñana.
A once-in-a-lifetime talent who possesses both wit and introspective depth, LP sees songwriting as their life's calling, likening it to the art of comedy. "It's putting someone at ease, helping their mind let go and get them ready to receive these emotions. Then they can let the song speak to their soul in the way that they want." LP also calls performing their "connection to the world," which will no doubt be further strengthened with the forthcoming, Love Lines. "I'm trying to reach out to more people all the time," they add. "To make people feel good for even three minutes of a song."
Bags must NOT exceed 11 inches x 14 inches. Any bags larger than this will not be allowed into the venue. Clear bags are NOT required. All bags are subject to be searched. The YouTube Theater bag policy is subject to change per event.
How do I get to YouTube Theater?
Visit our parking and directions page for more information on getting to YouTube Theater and rideshare information.
What is The Legacy Experience?
Enjoy YouTube Theater like never before. Become a VIP and upgrade to The Legacy Experience, in one of our premium club seats or as an add-on to your current tickets. Visit The Legacy Experience page to learn more.
Is WiFi available at YouTube Theater?
Complimentary WiFi is available throughout YouTube Theater. To join simply select #HollywoodPark from a WiFi enabled device.
Is YouTube Theater a cashless venue?
We are a cashless venue. All major credit, debit, and mobile payments are accepted throughout the venue.